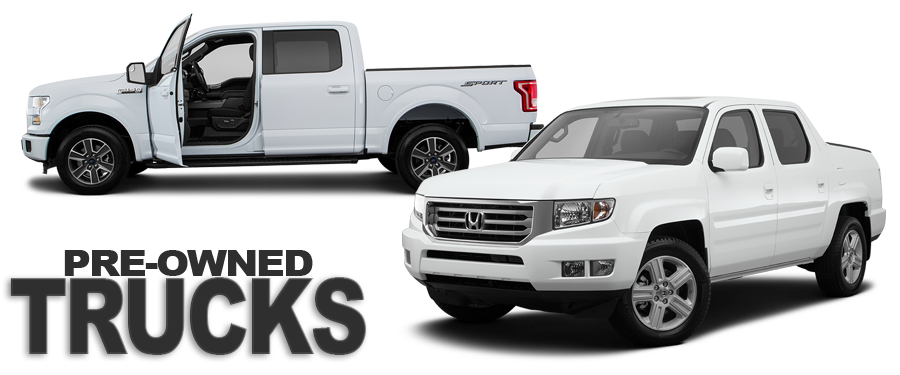 Used Trucks for Sale Near DeKalb, IL
It's not always easy to find the right used truck. There are so many things to consider – payload, towing and hauling capacity, cab configuration, bed length – that the truck shopping process can be more involved than shopping for other types of vehicles.
At Honda of Sycamore, we understand that you want an easy and streamlined dealership experience, with a great selection of high-quality used vehicles and prices you'll have to see to believe. We aim to please, which is why we stock our used inventory with only the best-quality vehicles we can find, and we make sure that they're in excellent condition.
Among our used inventory, you can search for your perfect used truck by make and model, price range, mileage, year, and other factors to find just what you're looking for. If you don't see what you want in our current inventory, let us know. We are committed to helping our valued customers get exactly the right vehicle for their needs and budget and will do whatever it takes to make that happen for you.
High-Quality Used Trucks in Sycamore, IL
Used truck shoppers each have their own set of needs and preferences. Maybe you're looking for a hardy work truck that is durable and supremely utilitarian. Maybe you need an off-road beast for your adventure travels. Maybe your used truck will serve as your primary means of family transportation, and you want luxury-grade features and amenities. Or, maybe, you're thinking of some combination of the above.
Whatever it is you're looking to get out of your used truck, Honda of Sycamore wants to deliver. And with our value-forward everyday prices as well as special savings and incentives, your purchase can be more affordable than you thought possible.
Find Your Used Pickup at Honda of Sycamore
While we always maintain a great selection, quality and prices like ours mean that nothing sticks around our lot for long. So, when you're browsing our inventory online, don't hesitate when you see a listing for your perfect pickup. Hurry in to Honda of Sycamore and claim your truck before someone else beats you to it.
And keep in mind that our inventory is constantly changing, as are our special offers. Check our website before you visit, or give us a call for the most up-to-date information. We can't wait to help you find your ultimate used truck!